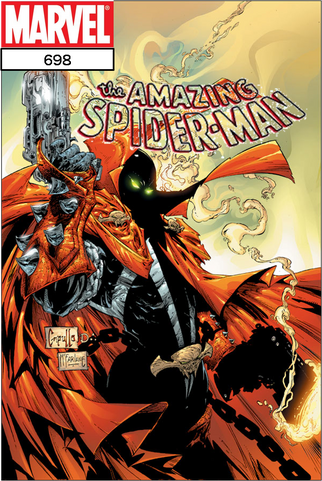 This Article, Spider-Man: Endgame/Strikedown, is property of MrFluffman.
Endgame: Strikedown is the title for the story in The Amazing Spiderman Vol 2 #698. It was written by Stan Lee, and illustrated by Todd McFarlane.
While Spider-Man's outside form prepares to kill everyone in his life, inside Peter Parker struggles viciously against his costume. It tries to tempt him with old visions and fears, but he pushes them aside. May, knowing her father is in there somewhere, stabs him with a kitchen knife. Shocked by the pain, Peter uses the costume's distraction to push his consciousness to the forefront, tells May to run as the costume reasserts control. Spider-Man vicously punches through the wall, reaching MJ. Terrified, she tries to run, but Spider-Man grabs her and prepares to kill her. Suddenly the costume obsorbs both of them, and with May watching in terror. The suit collapses, with Pete and MJ still trapped inside.
Reception
Edit
The issue recieved mixed to positive reviews. IGN's review stated, "Stan's writing hit's a low streak with this issue, as Peter struggles with his costume, but thankfully, the scenes with May are stirring and scary at the same time. Todd's art is at it's best."